Last day of school today (5/27). School is out at 1 pm. Bring a lawn chair and enjoy the family BBQ at 11 am. Please enter by the elementary gates. If you are taking your student home before 1 pm, please let the teacher know.

Mineral Community Hospital Sport Physicals. Friday June 3rd, 2022. Call 406-822-4803 to schedule an appointment.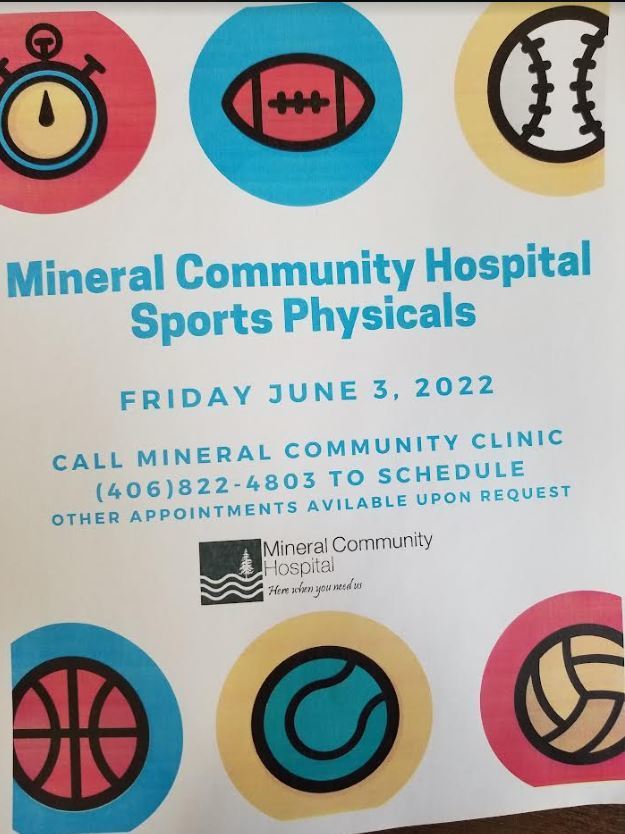 There is a 7-12 academic awards banquet on Tuesday, May 24th. IT'S INVITATION ONLY. Dinner is from 5:30-6:00 pm. The awards will be presented from 6:00-7:00 pm in the cafeteria. The attire is semi-formal. The invitations were sent in the mail on 5/18/22.

Please come join us at our End of Year Celebration on May 27th at 11 am. Music and dogs will be provided. Please check in at the office before heading to the pavilion.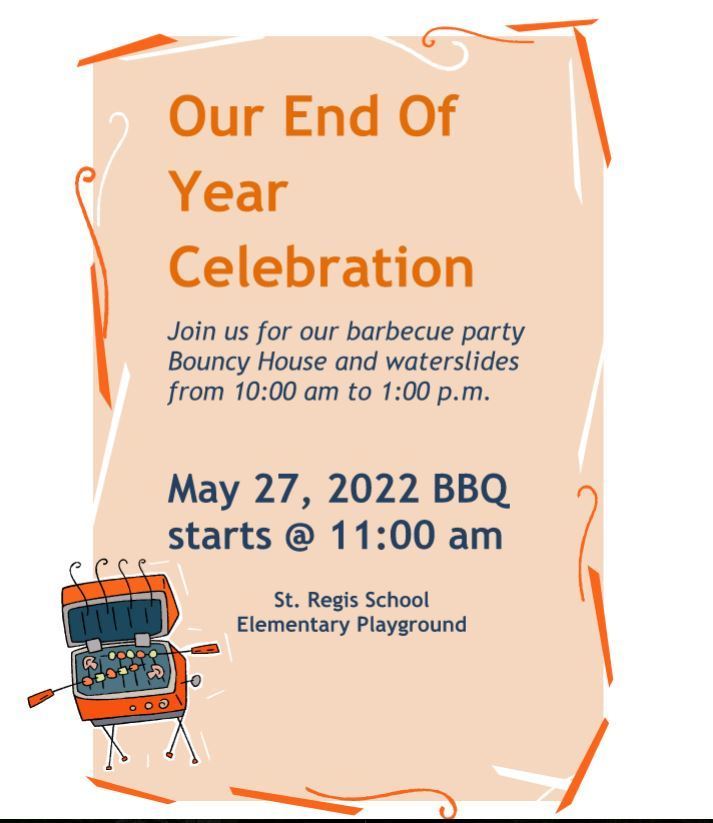 May 19th is the last day for Achieve, Clubhouse, and Think Tank.

The K-6th Grade Fun Run is on May 19th at 9:30 a.m. The competition this year takes place at St. Regis School. If you need more information or would like to volunteer for this event, please contact Amy Lohmen at: (406) 822-3564.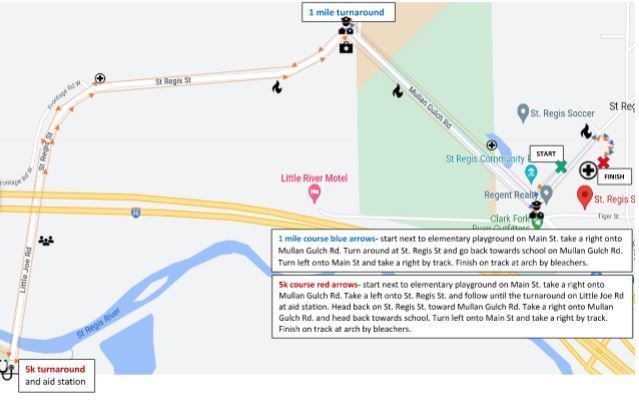 Summer School is just around the corner. It runs from May 31st - June 23 from 9 am to 1 pm. Breakfast, lunch, and transportation will be provided. At the elementary level, it is invitation only. Those invitations were sent out last week. At the secondary level, any student not getting a C or higher will be invited to attend. More information will be sent out next week.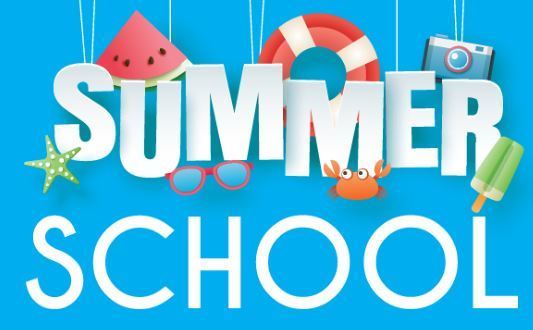 Next week we have our semi annual athletic awards night. The Jr. High students will be honored on May 9th at 6 pm. High School students will be honored on May 10th at 6 pm. The gym floor is tore up, so the events will take place in the cafeteria.

There is a Fun Run for Pre K-6 students on May 19th. Race starts at approximately 9:30 am. The race will start by the elementary entrance. Superior and Alberton Schools will be attending this race as well.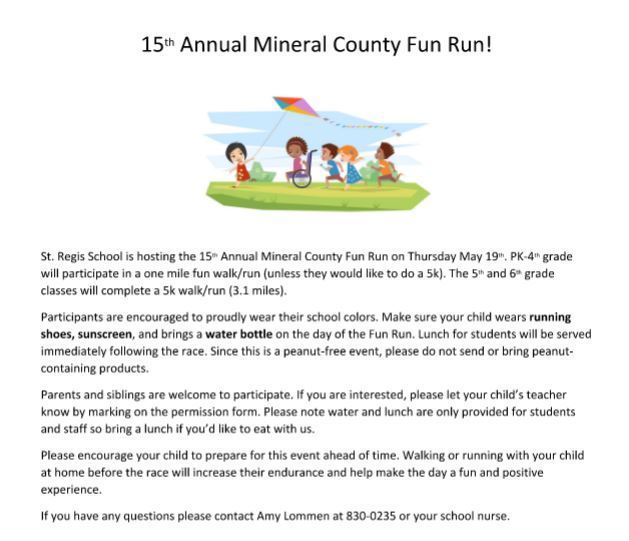 The Jr. High track meet has been cancelled today.

Individual and Sports Pictures will be taken on 4/11/22. Individual Picture ID#: EVT2VX7H9 Sports Picture ID#: EVTB76VF6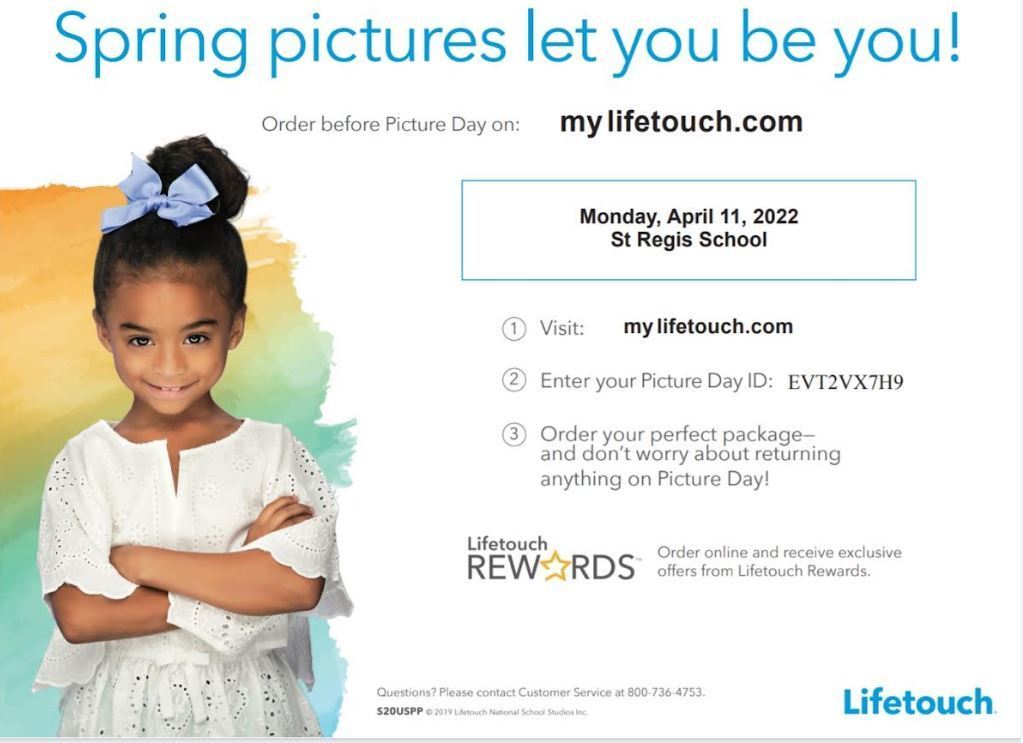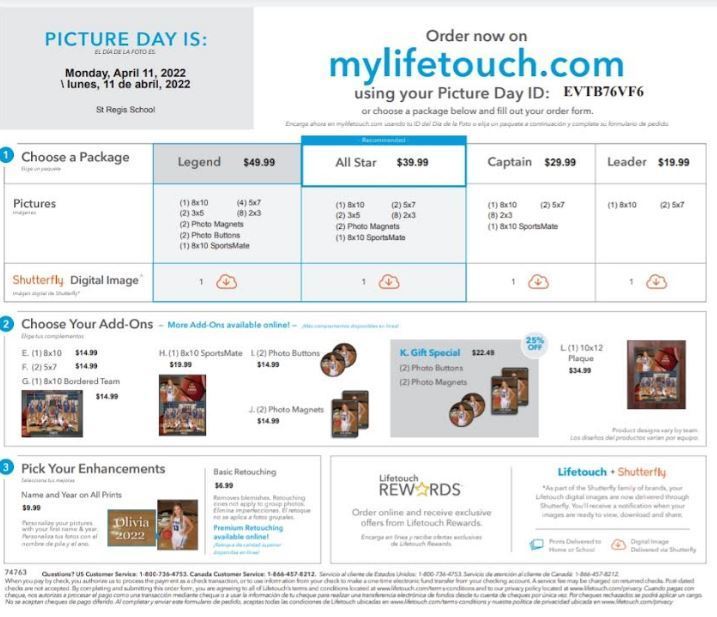 IMPORTANT GRADUATION/PROMOTION DATES Our graduation ceremony for seniors will take place on Sunday, May 22nd at 2 pm. They are expected to have all work mastered by Monday, May 16th at 8 am. Any student who does not meet this requirement will not participate in the graduation ceremony. The ceremony will take place on the football field. Kindergarten graduation is on Monday, May 23rd at 10 am. Our 8th-grade promotion ceremony will take place Monday, May 23rd at 6 pm. They are expected to have all work mastered by Monday, May 16th at 8 am. Any student who does not meet this requirement will not participate in the promotion ceremony. The ceremony will take place on the football field.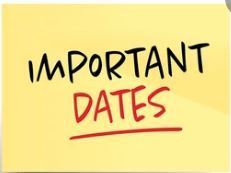 Masks are no longer required on the bus. If you want your child to wear a mask, you will have to supply one. Thank you.

Due to black ice, we are having a LATE START this morning. Classes start at 10 am.

Do you like donkeys or basketball? If so, please come support your athletic program by attending donkey basketball on March 3rd at 6 pm in the St. Regis gym.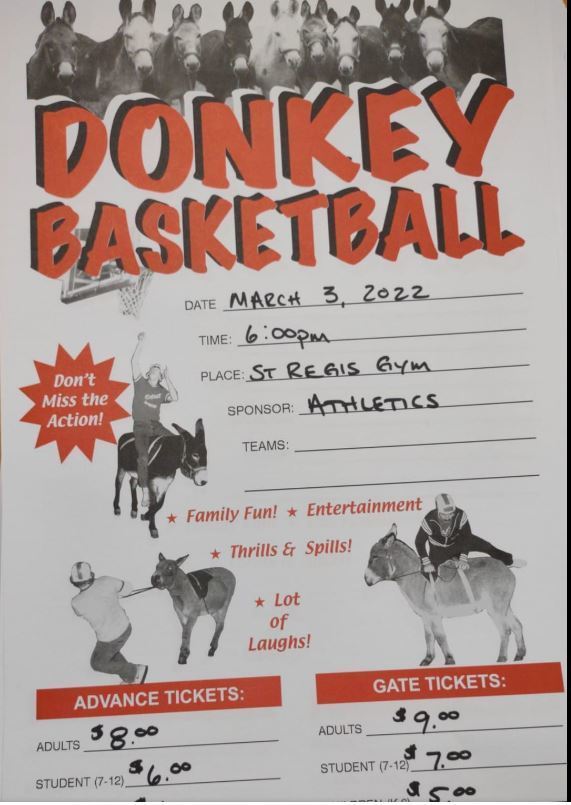 No School on 2/17 and 2/18. District basketball.

Please come cheer on our boys and girls basketball teams at District. The games are played at the Ronan gym. See attached brackets.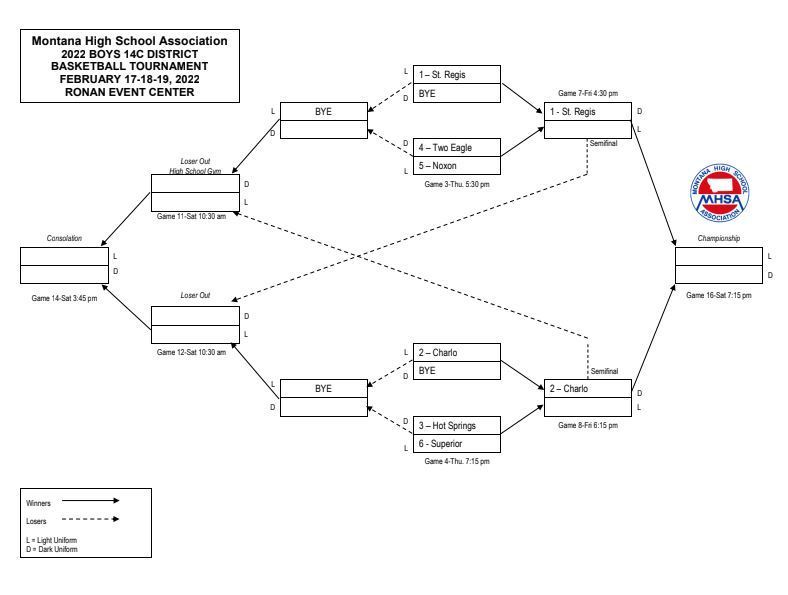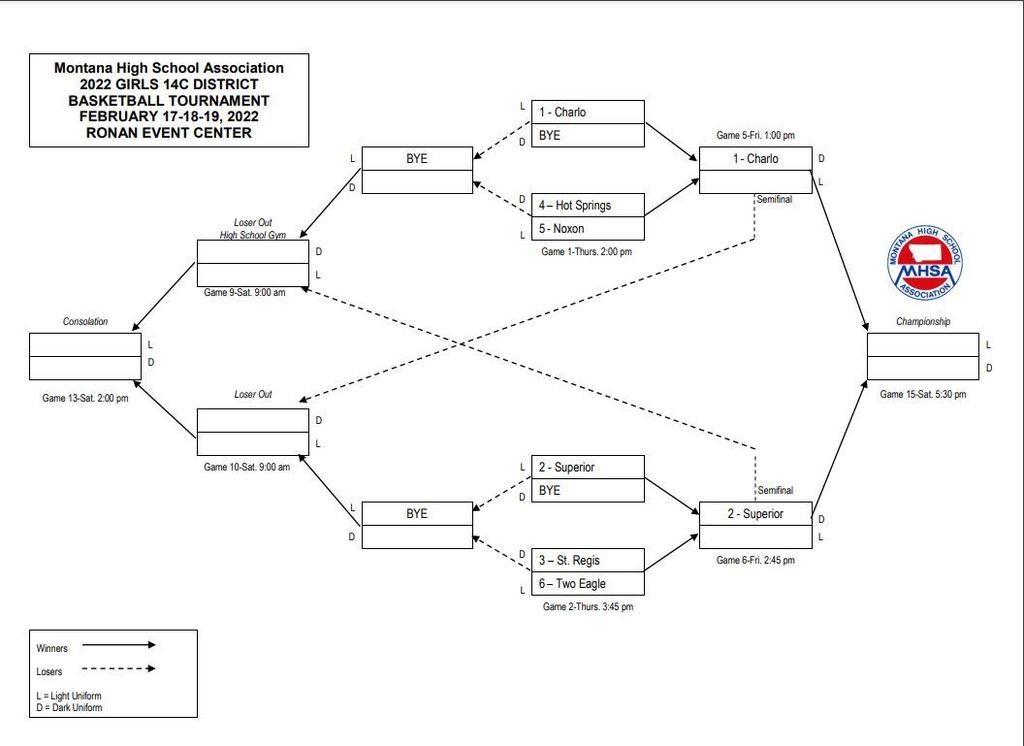 Lifetouch Picture Day on Thursday, March 3rd. Picture Day ID: EVTJQ774D. Order forms will be sent home.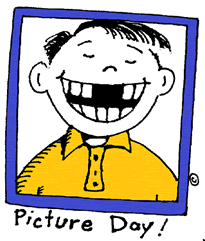 Mineral County Rec Club Ski bus starts Jan. 16th! Code of Conduct and Rules Link:
https://drive.google.com/file/d/1r3lBnrZStZMsaMf0skfupviJM5WauNbI/view?usp=sharing
Waiver Link:
https://drive.google.com/file/d/1dnMzfxKQzS4X-W8X_nlV-xvW2uo442HX/view?usp=sharing
Link to Sign-up:
https://forms.gle/1dqZ3Ufxs8WDFU4cA
Participants must be in 5th grade or higher to ride without a guardian. All equipment and lift tickets are the participant's responsibility. The cost of the bus for a round-trip is $3.00 to be paid before boarding. SKI BUS SIGN UP for January 16th-
https://forms.gle/yQkmgLJqWkxG2C31A
Alberton participants are welcome to sign up but meet the bus in Superior. The bus will leave the Superior High School Bus Barn at 8:30. If participants need to be picked up in St. Regis (Indicated on the sign-up form), the bus will pull into the parking area, near the entrance to the dog park, at approximately 8:45 am. On the return, participants are expected to be on the ski bus at 4:00 pm Mountain Time. Please see the rules and code of conduct for more information. Waivers and Code of Conduct are available here, can be requested at
mineralcountyrecclub@gmail.com
, or picked up from Superior Schools. Waivers must be on file for each participant. A big thank you goes out to all the people in the past who kept this program going and understood the importance of a ski bus. Please work with us as we get this program re-started. There might be a few things missed, but we are working hard to build a strong program that will benefit all of Mineral County. If you want to volunteer or know more, please send a direct message to the group.